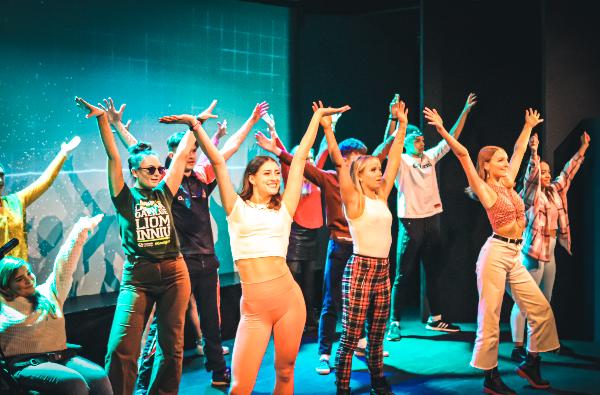 On Saturday 12th Musical Theatre students (1st to 3rd year) performed 'Absolutely Abba' (a medley choreographed and directed by David O'Connor) to a very appreciative audience in Cork Arts Theatre. To see the photos of this fabulous show, click here.
And on Saturday 12th and Sunday 13th February Senior Musical Theatre (4th to 6th year students) presented three performances of musical 'On the line' in Cork Arts Theatre to full houses. Award winning Director Danny Buckley says 'From conception to delivery this was a magical journey, out of a complex time in all our lives. The script of Katie Holly was the fabric through which the creative team wove layers of music, dance & drama to create a meaningful, touching yet humorous snapshot of a teenager's challenges in life amidst her eminent success, delivered with energy, meaning and love by such a wonderful cast of amazing students. We made Magic'.
There was palpable excitement amongst the young singers, dancers and actors with this return to live performance after such a strange time of socially distanced, zoom or outdoor classes. Producer Kerry Nyhan was elated after the performances; 'I'm so delighted to have made my producing debut on this show, working with teenagers who bring so much passion to what they do. Also amazing to work with such a great creative team - Carrie Mullane is an extremely talented Musical Director and choreographer David O Connor's vision knows no bounds. It's very wholesome working on a project like this - seeing the beaming faces filled with utter joy, singing and dancing their hearts out. There was a place for everyone on the stage in the Cork Arts Theatre this weekend and I'm so proud of the diverse cast who all brought something different and really felt like they belong.' To see the photo gallery of this amazing production, click here.