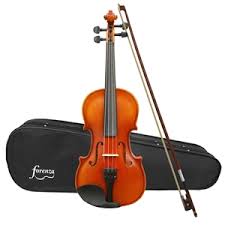 5 Tips for Playing the Violin
For those of you who play the violin, or those of you who live with someone who plays the violin, it can be a frustrating process. A beautiful instrument, it is one of the most difficult skills to learn. So we asked Caoimhe McCarthy, our wonderful violin teacher for some tips on how to make practice easier:
1 The hardest thing about practicing is...starting. Half the battle is taking the violin out of the case! Once you are that far, it is much easier to practice. So make time during the week to open that case!

2 Listen to your pieces on YouTube for inspiration. Hearing such amazing music will always make you want to be better, which will help your practice come on leaps and bounds.

3 Practice the difficult bars of the piece on their own. There are always going to be parts of a piece that are a bit more challenging, so give these sections more time. Don't always start playing the piece from the beginning.

4 Make practice a habit. Practice at the same time every day so that you don't have to think about it; you just do it.

5 Practice performing in front of people, like your parents, siblings or even your dog! It will help you get comfortable when performing. And the more comfortable you are performing, the better your performance will become!
Happy practicing! And always remember it is never too late to start learning an instrument - we take one to one students of all ages, children and adults so get in touch on centrestageschool@gmail.com if you are interested in putting these tips into action!